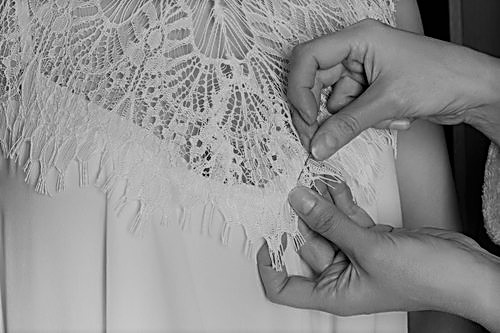 Alterations
Finding your wedding dress is one thing, however finding someone you trust to alter it is quite another. At Anne Gregory Bridal, we understand how precious your wedding dress is, and will be with you every step of the way to make it uniquely perfect to you. Our couture approach to alterations, ensures the same flawless finish to your alterations that the original designer finished the gown with.
Our stunning boutique & studio, located in the Garden Of Ireland, is the perfect setting for your bridal party.
Our team of dedicated and highly experienced seamstresses will be able to advise on making you look and feel great in your dress. From talking you though the possiblities, offering ideas and design solutions, to ensuring that every stitch & bead is altered to perfection, Anne Gregory Bridal's dedication to perfection and the highest dressmaking standards, will ensure your gown is perfect on your big day.
Contact our studio to discuss your alterations needs and we will be happy to give you an estimate for alterations.
*Disclaimer required for this service.